VINTAGE Premium Carnauba Wax 200 ml
Gloss
Pad recommendation
Protection Level
Capacity in ml:

200 ml

Customer:

Detailer

, Enthusiast

Gloss:

6 of 6

Pad recommendation:

HandPuck Black

Protection Level:

7 von 6
STEP 1: SURFACE PREPARATION

Wash the vehicle thoroughly with ShamPol. Remove any scratches and worn paint with our paint restorer S17+ or, alternatively, with our scratch remover S3 Gold.
STEP 2: APPLICATION OF THE PREMIUM WAX

Smear a small amount (about the size of a hazelnut) of wax evenly onto the black hands puck. With even force, apply the wax on the paint surface in partially overlapping circular motions. A few seconds later, a film of dried wax residue will appear.
STEP 3: REMOVAL OF THE WAX RESIDUE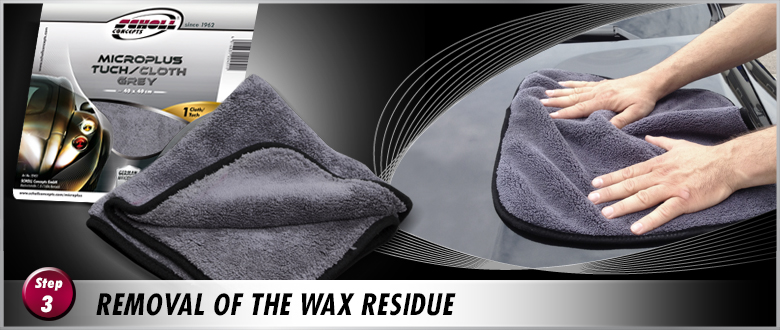 Wipe off most of the film with the fleecy grey MicroPLUS cloth. The wax residue may not have to be completely removed.
STEP 4: HAND-MASSAGE OF THE WAX FOR A SUSTAINABLE PAINT PROTECTION AND IMPROVED GLOSS FEATURES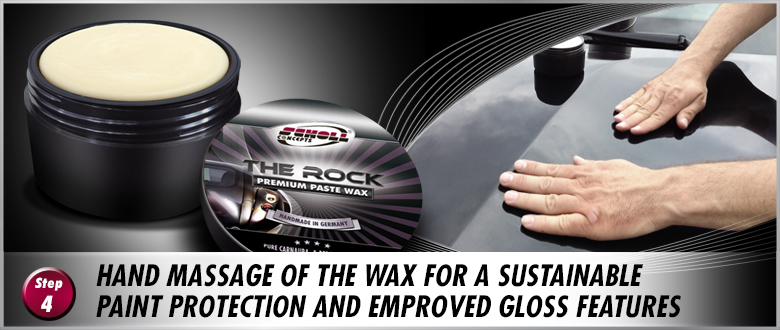 Interestingly, Carnauba, the toughest naturally existing wax in the world melts at our body temperature. Therefore, we recommend massaging the paint surface, after wiping off approx. 90 % of the wax residue, with the palm of your hand to melt the wax molecules and ensure a tight paint-wax bond.
After the "massage", the wax will cure into a shell-like protection, fastened to with the paint surface.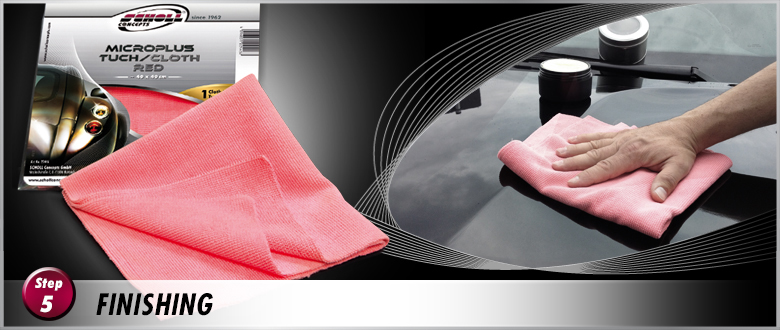 Next, gently polish the entire vehicle with the red MicroPlus cloth to remove cloudiness and loose wax residue.
Polish until you achieve a high gloss finish. In order to minimise polishing time, the hand-massage (step 4) can be omitted. The paint protection is even exemplary without this step!
OUR RECOMMENDATION FOR HOT DAYS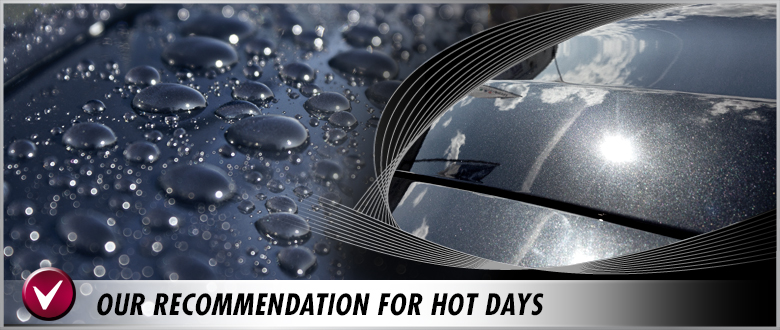 The hand-massage (step 4) can be omitted when the atmosphere temperature is high. To achieve the same effect, just leave the car in the sun for 30 minutes after removing 90 % of the wax residue (step 3).
Then park the car under shade and polish the now-softened wax with the red MicroPlus cloth until a high gloss finish is achieved.
SCHOLL CONCEPTS GMBH
60 years of experience in paint finishing solutions
Die Firma SCHOLL Concepts GmbH mit Sitz in Remseck am Neckar bietet seit mehr als 58 Jahren innovative Lackfinish- sowie Autopflege-Konzepte auf höchstem Niveau an. Der Drang zur perfekten Lackoberfläche, Leidenschaft und hohes Engagement haben das Unternehmen weltweit zu einem der innovativsten, flexibelsten und kompetentesten Anbietern von ganzheitlichen Lackfinish-Lösungen gemacht. Die Premium-Strategie ist fest in der Unternehmensphilosophie verankert. Dabei verfolgen wir einen ganzheitlichen Ansatz. Qualitativ hochwertige, innovative und einzigartige Produkte und Konzepte können nur dann entstehen, wenn der Premium-Gedanke im gesamten Unternehmen gelebt wird und alle Prozesse, Anlagen und Maschinen anspruchsvollen Qualitätsansprüchen gerecht werden. Unsere Premium-Produkte erkennen Sie unter anderem daran, dass wir ihnen unverwechselbare Markennamen geben.
PRIVATE LABEL
WE DEVELOP & PRODUCE YOUR POLISHES & PADS UNDER YOUR BRAND NAME
ERFAHREN SIE MEHR ÜBER UNSER B2B COMPLETE KONZEPT FÜR PRIVATE LABEL KUNDEN | Unser Leben wird bestimmt von 3 räumlichen Dimensionen und als biologische Wesen sind wir in 3 Dimensionen entstanden. Was liegt also näher, als unser Business in 3 Dimensionen zu betrachten? Lernen Sie unser einzigartiges B2B complete Konzept kennen: SCHOLL Concepts entwickelt nicht nur sehr hochwertige und individuelle Premium Produkte, sondern auch ein kluges Gesamtkonzept zu deren wirkungsvollen Vermarktung. Mehr Informationen erhalten Sie in unserer SCHOLL Concepts B2B-Complete Broschüre.(8,4MB)